About Me
I am a fun-loving, quirky girl who loves life and lives each day to its fullest! Having worn many hats throughout my multifaceted career, I worked my way up from starting as a sales representative and junior to soon becoming an executive and CEO. Yet, none of these roles inspired me in the same way painting fuels a passion from within me. 
My painting really started at that tender age a woman's body begins to drastically change. Around the same time, I was diagnosed with breast cancer at which point painting had became my most valued and therapeutic treatment. I was able to immerse myself in the many colours of the paints and the imaginary characters that I was creating on the canvas which enabled me to think beyond my current situation and overcome the rigorous treatment process. Thankfully, my paints and I are now happily in remission.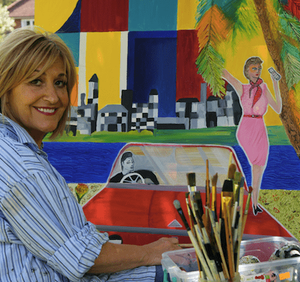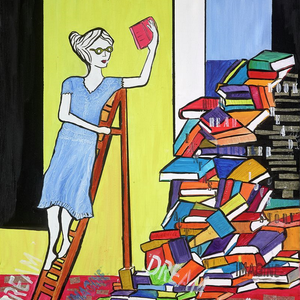 Since 2016, I have been represented by Artlink International, a renowned Florida Gallery who have proudly exhibited my paintings starting with The Bookworm during the Art Miami / Art Basel event. Each year they have taken more of my paintings like The postcard and Traffic Jam and shown my work at many other exhibitions across different US states.


As well as my work across seas, I have evolved and experimented with different themes and techniques to create more and more paintings on canvas. By doing so, I discovered that my paintings work really well as prints on various products which led me to create the collections you see today on my website. My prints can be purchased in various sizes covering an array of product choices and print collections. Likewise, if you are interested in my original work or would like to commission me then I would love to hear from you!


Most of all, I am also glad to be able to share my work on Instagram as well so that I may reach a wider audience and share my encapsulation of love, laughter, friendship and colour with all whom wish to divulge into my world. 

With every dip into my paints and brushstroke across the canvas I embark on a colourful and exciting journey. My only hope is that with each painting that tells a new story, my work draws you into these stories and adds light and colour to your own personal journey too.